2011 Peg Kings
Updated 18-9-11 ( * denotes recently changed )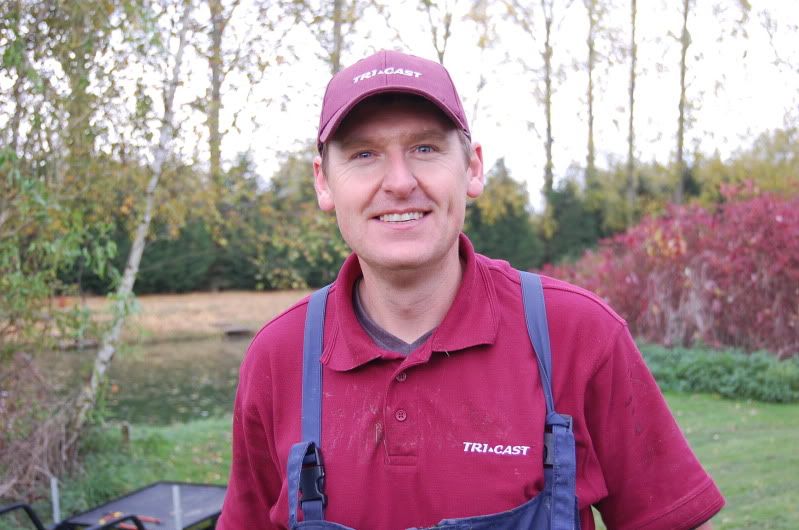 Peg kings is a piece of fun for the anglers down the lake and you get your name on the board when you hold the top weight for the peg at that moment in time.
Last year the longest peg king was co-website founder Simon Mound who held his peg king from February to December, and the angler who held the most peg kings was lake owner John Bennett who held 7 top peg weights at the same time.
So to get on the board you have to fish one of the opens or league matches or festivals and have a higher weight than the angler currently on that peg.
To be king of the lake you have to have the highest weight recorded down the lake.
There are currently   1 out of bounds peg ,peg 33
1 peg under construction peg 12
6 peg kings under 100lb
13 peg kings over 100lb
14 peg kings over 200lb
5   peg kings over 300lb
| Peg | Current PEG KING | Weight | Sponsor | Old Peg King |
| --- | --- | --- | --- | --- |
| | | | | |
| Peg 1 | Ian Millin* | 35-00 | Rolfslake | Clive Pritchard |
| Peg 2 | Andy Quarmby | 195-08 | Matchfishingscene | Andy Quarmby |
| Peg 3 | Del Smith | 166-12 | Boxmore Sports | Steve Preston |
| Peg 4 | Gary Kelsey | 292-12 | Rolfslake | Derek Hammond |
| Peg 5 | Pete Arnold | 300-4 | Rolfslake | Mark Newbold |
| Peg 6 | Justin Watkins | 168-0 | Browning Crowsport | Bill Lovelock |
| Peg 7 | Mark Newbold | 294-4 | Rolfslake | Chris Lovelock |
| Peg 8 | Jon Walker | 383-00 | Walker Floats | John Bennett |
| Peg 9 | Mark Newbold | 262-8 | Rolfslake | Andy Morrison |
| Peg 10 | Frank Donoghie | 176-8 | Rolfslake | Tony Wynwick |
| Peg 11 | Tony Roberts | 102-4 | Jinx Squad | Marcus Burgess |
| Peg 12 | Not in use | | | |
| Peg 13 | Pat Pritchard | 165-0 | Cove AC | Richard Doolan |
| Peg 14 | Martin Churchill (Tri Cast Weston) | 209-04 | Shimano Team Wales | Steve Waters |
| Peg 15 | Steve Wilson | 161-8 | Jinx Squad | Paul Roberts |
| Peg 16 | Simon Enticott | 335-08 | Matchfishingscene | John Bennett |
| Peg 17 | Mick Lane | 235-4 | Rolfs Mafia | Kevin Williams |
| Peg 18 | Geoff Warmington | 260-00 | Rolfslake | Clive Pritchard |
| Peg 19 | Simon Mound | 171-4 | Simple Match Fishing | John Bennett |
| Peg 20 | Clive Pritchard | 99-8 | Jinx Squad | Alex |
| Peg 21 | Paul Jay | 59-8 | Rolfslake | Mick Lane |
| Peg 22 | Colin Wedgebrow | 236-00 | Fishermans Friend | Liam Bough |
| Peg 23 | Eddie Taylor-Green | 249-12 | Rolfslake/ Walker Floats | Dave Wightman |
| Peg 24 | Jon Walker | 357-8 | Walker Floats | Mark Taylor |
| Peg 25 | Martin Churchill(Tri Cast Weston) | 258-14 | Shimano Team Wales | Marcus Burgess |
| Peg 26 | Roy Miller | 243-08 | Boxmore Sports | Dan Jones |
| Peg 27 | Owen Glover | 118-4 | Ospreys AC | Mick Chapple |
| Peg 28 | Geoff Edwards* | 327-04 | Rolfslake | Maurice Woodley |
| Peg 29 | Mick Lane | 99-12 | Rolfs Mafia | Peter Morton |
| Peg 30 | Andy Quarmby | 266-8 | Jinx Squad | Steve Wilson |
| Peg 31 | Dave Howe | 146-8 | Red Lion Match Group | Tony Taylor |
| Peg 32 | Andy Quarmby | 319-12 | Cove AC | Paul Jay |
| Peg 33 | Not in Use | | | |
| Peg 34 | Ian McCulloch* | 174-4 | MatchfishingScene | Wayne Higgins |
| Peg 35 | Matt Wilson* | 91-08 | Rolfslake | Simon Mound |
| Peg 36 | Barry Gabriel | 138-12 | Lions Tackle | Matt Smith |
| Peg 37 | Simon Mound | 73-4 | Simple Match Fishing | Frank Hardie |
| Peg 38 | Jon Walker | 243-4 | Walker Floats | Mark Newbold |
| Peg 39 | Mick Lane* | 130-8 | Rolfs Team Gold |  Adam Bates |
| Peg 40 | Mark Newbold | 281-8 | Rolfslake | Mick Sutton |
Chris Telling new Silver Fish Lake king with new
Silver fish match record 75-08