MALC DOYLE TOP THREE CHALLENGE SUNDAY 27TH AUG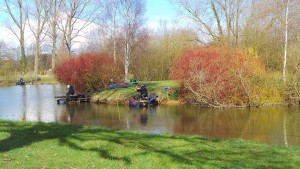 Malc Doyle top 3 challenge match.
Today saw the second top 3 challenge match which has the anglers competing on equal term in regards to pole length.
Today also saw a well attended 17 anglers fish which was won by Micheal Corsini fishing big lake end peg 18.
Micheal had fish to double figures in his winning weight of 168-10.
| | | |
| --- | --- | --- |
| Peg | Angler | Weight |
|   18 | MICHEAL CORSINI | 168-10 |
|   13 | MALC DOYLE | 126-10 |
|   30 | ERNIE MALYON |  93-06 |
|   40 | VIC FRANKLIN |  83-12 |
|   28 | MARCUS WATKINS |  76-07 |
|   8 | STEVE PALMER |  68-07 |
|   5 | PAUL NEWBURY |  64-11 |
|   9 | NICK WATKINS-PRICE |  62-12 |
|   22 | PAUL HURL |  59-06 |
|   7 | JON BENNETT |  56-12 |
|  24 | MICK JONES |  44-14 |
|  4 | MICK CHAPPELL |  36-08 |
|  26 | DAI THOMAS |  32-14 |
|  14 | JULIE DOYLE |  30-03 |
|  34 | ROB RAYMENT |  28-08 |
|  32 | NICK WILLIAMS |  21-06 |
|  10 | LISA WATKINS-PRICE |  2-05 |
17 ANGLERS FISHED